Info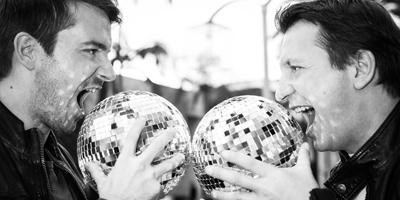 Aristofreeks is an Ibiza-based DJ, producer and remix collaboration between DMC mixing championship finalist Max Martire (Space/Amnesia Ibiza/Warner Music) and the dutchman Shanti Matkin.
Growing up in Ibiza, Max Martire is one of the pioneers of the Ibiza EDM DJ scene, and was instrumental in changing the musical direction of the island in its EDM Superclub infancy. Along with his Italian DJ partner Daniele Poli and their counterparts, British DJ duo Alex P and Brandon Block, they created the legendary Space Terrace phenomenon. By converting this neglected part of the Space discotheque into a sunny paradise, they changed the spirit of the island for all time. Max's contribution shaped what is today's Ushuaia. He has also held residencies at Space and Amnesia, as well as being a sought-after DJ for the largest, most exclusive private parties on the island. He has toured extensively throughout Europe, breaking first ground in the EDM global culture. His reputation for flawless mixing and beat-matching precision earned him the nickname "The Surgeon". Max has been DJ'ing since he was 13 years old, and his life-long unique DJ style has been dedicated to playing 70's funky, soulful disco house, delving into his collection of 22,000+ vinyls, and he is at the forefront of the "Nu-Disco" trend that is taking off throughout Ibiza and Europe.
Shanti Matkin's phenomenal output is the direct consequence of starting young and producing with a passion. He played his first club in Amsterdam at the age of 13, and with the mentoring of his older brother Riktam (GMS) he shaped his early recordings along with the first wave of trance pioneers resulting in dozens of XXX releases and DJ dates across the globe including regular outings to Europe, Mexico and Japan. Brazil has also welcomed him so that he has been a resident at the Kabbalah festival for over 7 years as well as headlining the XXXperience parties along with his partners Dino Psaras and Dado (Deedrah/Synthetic) as (the) Krome Angels.
He has also produced a lot of techno under the alias Matt King. The Asylum EP featured a pair of tracks which worked their way into the sets of Europe's tech-house elite including James Zabiela, Gregor Tresher, Stephan Bodzin and Karotte. Aside from the title track Asylum, the flip-side 'Draguer' was picked up by D.Nox and Beckers for their compilation mix released as Tronic Treatment in 2011.
For his next two releases he continued to deliver solid tech-house grooves with 'Widowmaker' for Denmark's Iboga label and 'De La Noche a La Mañana' for Italy's No-Logic. Eventually he returned to the studio with his old friend Synthetic, the collaboration produced the epic 'Start your engines' track, a driving dance floor killer which naturally found a home back with Tronic and was featured on their 2011 ADE compilation sampler alongside Marco Bailey, Underworld and Marko Nastic. 2012 & 2013 saw releases on the label from Julio Navas and David Amo, Fresco Records, and on Iboga from Denmark.
In 2014, Max Martire and Shanti Matkin joined forces and formed "Aristofreeks" to re-inject Disco into modern house music.
The emerging trend of "Nu-Disco" or "Nu-House", revisiting classic disco hits with contemporary remix productions, is proving extremely successful in Europe, the UK and Ibiza, and is now finding its way to the U.S., e.g. New York's The Vault, Giorgio's in the W. Hollywood Standard Hotel, etc. Aristofreeks are working with some of the original artists of the height of the Disco Era (Sister Sledge, Chic, Giorgio Moroder, etc.), and have recently started working with "Next Step" (Alfa Anderson, Luci Martin, and Norma Jean former singers of Chic), to re-create their iconic tracks and new mixes.
Aristofreeks have produced several remix versions of Sister Sledge's "We Are Family" and "Thinking of You", featuring Kathy Sledge (Legendary Voice of Sister Sledge) on vocals.
With "Next Step" they have completed remixes of "Le Freak" entitled "Chic x The Aristofreeks" and "Good Times" which did turn into an amazing remix contest on Beatport in 2015.
Not missing the chance of having all those outstanding and iconic talents under the same roof, Aristofreeks produced "Get On Up" featuring Next Step and special guest Kathy Sledge. It was released on Disco Demolition date to commemorate Disco still alive and it's doing very well on it's new take of today.
Due the success of the first Aristofreeks remix series of "We are Family" featuring the legendary Kathy Sledge, released in 2013 on Pacific Electronic Music, it lead to another collaboration in 2014 , an original song, resulting in the hit single "Keep it Movin", which climbed up to number 2 on the Billboard Dance Club Chart.
https://www.youtube.com/watch?v=SRZYawv6QAk
More tracks are already in the pipeline, consolidating the success of this fruitful collaboration.
To complete the picture the Aristofreeks have created a DJ set with these releases and other recent remix/mashups, reflecting this emerging trend in EDM.